3100 Independence Pkwy Suite # 215 Plano, TX 75075
How Henry's Ice Cream Catering Creates Award-Winning Parties and Memories for a Lifetime
Are you in search of the best ice cream catering Texas options for your upcoming special event?
You have to admit, this is probably the most mouth-watering item on your "to do," right?
There's not many things in this world that instantly puts an angelic grin on faces, conjures up sweet nostalgic memories, and makes people feel like 10-year-olds eating their favorite cool treat on a hot summer's day like ice cream.
Still, choosing the best ice cream catering company is not as easy as choosing the one with the lowest upfront price.
In fact, many of those so-called cheap options will present hidden costs and fees on the back-end that will make you wish you had have chosen differently.
"Nickel and diming" you to death is an unfortunate, yet common practice in this business.
Plus, sadly, many options offer not only low-ball pricing, they often produce low-grade, cheap ice cream, which leaves guests feeling like they just got…'creamed.'
Yea, when it comes to ice cream truck catering in the Dallas/Fort Worth, Texas area, there is a reason why Henry's homemade ice cream catering services stands head and shoulders above the rest.
Truth is, all ice cream catering service providers in Texas do not offer the same premium quality ice cream and service that you and your guests deserve.
What follows will make you the unsung expert on choosing the best ice cream catering provider for your event.
You'll put on an amazing event that's not only affordable but puts huge smiles on the faces of all your guests, becoming one of the most talked about, memorable and celebrated events they've ever experienced.
Go ahead and take a bow now because we're going to help you look like a hero!
What's more, you'll discover how to get the very best price on your ice cream catering event and guests enjoy an endless, build-your-dream Sundae ice cream bar with all the delectable toppings your imagination can fathom! We also provide wholesale homemade ice cream in Texas. We allow you to choose your own flavors for your event. Give us a call today.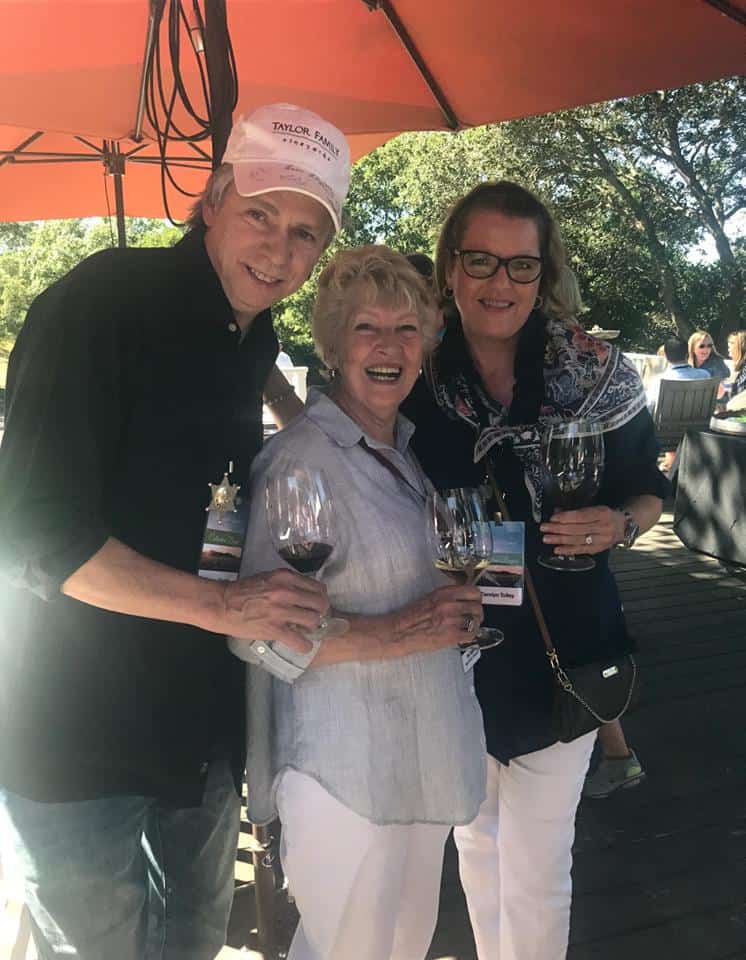 What You Should Know About Ice Cream Truck Catering
With Henry's, you're not paying for a bulky ice cream truck as we found it more economical to transport our 18% butterfat ice cream in coolers packed with dry ice. This nimble transportation method keeps your ice cream cooler which means more smiling guests for you.
The first thing that you need to know about Henry's Homemade ice cream catering services is that when you choose Henry's, you're choosing the best.
And that's not just hot air.
There's not a single other ice cream catering company in the entire Dallas-Fort Worth Metroplex that has won as many awards as we have.
The only requirement we have to hire Henry's to cater an ice cream party for you is a minimum of 100 guests.
With that, we'll pack everything up and come out to your location and bring all the yummy goodness from our place to your event.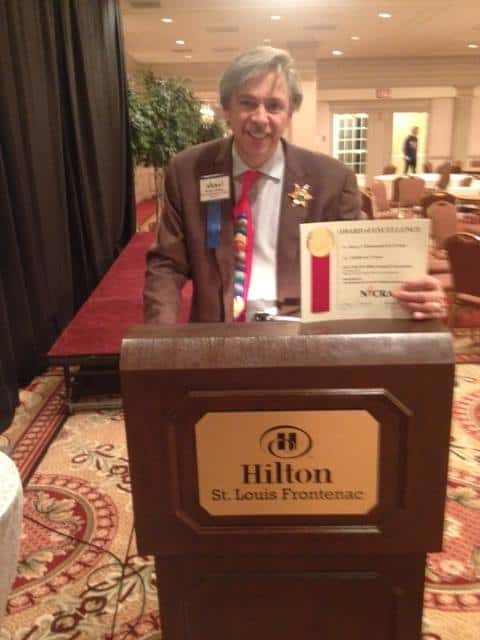 The Willy Wonka of Ice Cream…Really!
We bring all your favorites – including the top 10 staples and most requested ice cream flavors.
We also bring sorbet – which is lactose-free, delicious frozen yogurt flavors and even sugar-free ice cream.
In all, you will have 25 to 30 different flavors of ice cream so everyone gets their favorite and their fill!
It's also very important to note that this is not just any ice cream, this is Henry's premium, award-winning, homemade ice cream!
Sadly, most ice cream catering companies get bulk ice cream from Sam's, Bluebonnet, or Bluebell ice cream – which are all cheap options, and who wants that?
Your guests are smart and they don't just taste but also feel the difference between premium-quality and the el-cheapo. Offering bargain-basement ice cream just leaves a bad taste in everyone's mouth.
You know as we say in Texas, "Go BIG or go home!"
We also bring along all the fixings and toppings your taste buds can handle.
Everything including chocolate syrup, nuts, sprinkles, gummy bears, marshmallows, whipped cream, cherries and so much more.
Imagine the expression on everyone's face when they walk in to see two tables – a whopping 12-foot spread – of delectable, delightful ice cream with all the fixings. Their eyes will dazzle at all the inviting colors, flavors, and treats at north Texas' 'coolest' ice cream sundae bar!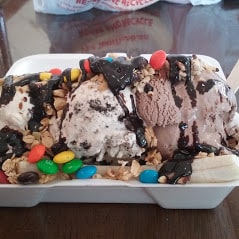 Transporting and Maintaining the Goods…For You Worry-Warts…
If you're concerned about our ice cream melting, don't be!
Instead of transporting the ice cream to your location in an ice cream truck, we pack the ice cream in boxes – 60 scoops per box – to your location. Most events order an average of 140 to 150 scoops of ice cream.
How do we keep it from melting?
We add dry ice, not regular ice, to these boxes of ice cream. We then place the boxes with the dry ice inside professional coolers.
This process keeps the ice cream firm and perfectly frozen for the duration of your entire party, instead of melting away into puddles of sugary mess.
Did you know that while regular ice is -32°F, dry ice is -100°F?
Another fun fact is that dry ice is so cold that it actually burns the hand if you touch it.
That said, you never have to worry about your guests having this kind of accident as the dry ice remains safely inside the coolers.

Catering Quote Request
Enter your details and we'll get in touch with a quote for your event.
The Henry's Ice Cream Catering Services Difference
One of the biggest issues with catering ice cream parties is all the mess.
When ice cream starts to melt and there are a lot of people eating that ice cream and it can become a Mississippi mudslide quickly. Spills start to happen and before you know it, ice cream gets on the bottom of shoes and is tracked all over the place.
This can become a nightmare if you are in a carpeted facility and ice cream starts getting tracked around.
With most ice cream catering companies, this is a very real scenario and you should be concerned.
But this is just not the case with Henry's ice cream catering service.
We know that spills are unavoidable. Professional adults feel like kids again when they're having fun eating yummy ice cream, right?
That's why our team is well-trained on cleaning spills as they occur. This is important to us in order to minimize liability for our valued clients.
We also handle all cleanup at the end of the event. Please note that this comes included with the upfront price, not as an upcharge.
This is what makes us distinctly different from some of the other ice cream catering services that charge you extra to do cleanup or worse, they leave it for you to do.
Normally we send one person to serve your party – as one person can serve up to 200 people comfortably. For 400+ guests, we send two or three people to service your event.
We've catered for parties as large as 3,000 employees in three hours – Toyota's anniversary party in Plano at their opening night party.
An event of that magnitude would be too difficult for most catering companies to execute successfully because their ice cream melts. For us, it's just another well-executed event for Henry's! Look at our wonderful ice cream flavors and be amazed of what we've got for you.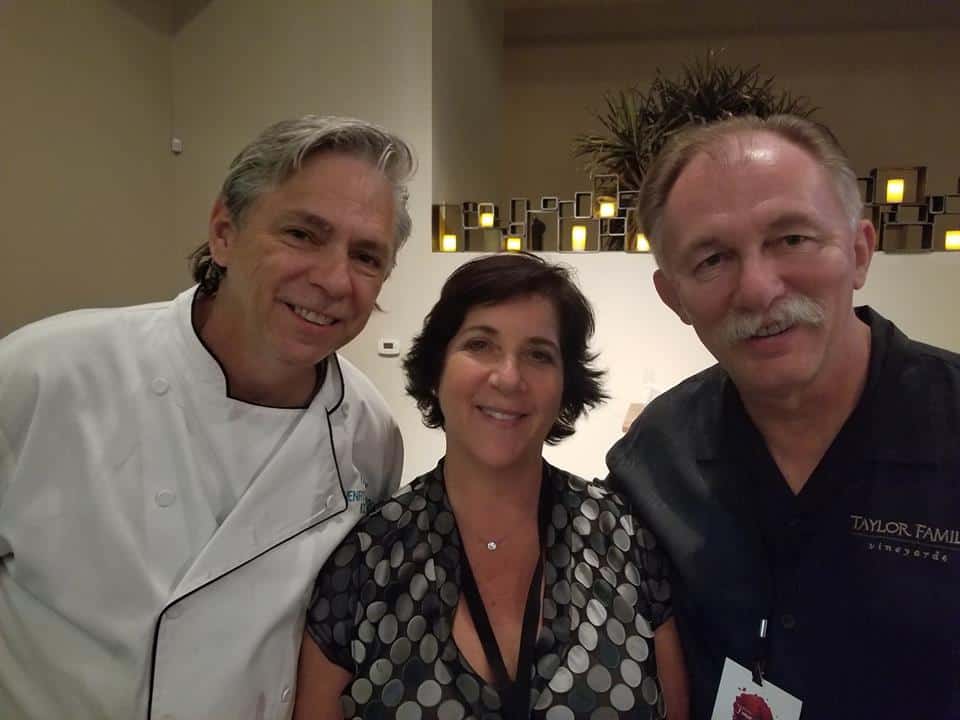 The 'Inside Scoop' You Should Know
Henry's ice cream catering company is a leader in the industry.
We have been catering ice cream parties in North Texas for 37 years. We have won every award in the industry. This is because we offer exceptional service and ice cream Texans love and trust.
Choosing Henry's ice cream catering services is a difference you can taste.
You should know that many companies purchase low quality, bulk ice cream, and repackage it before they get to your event. Not cool!
These companies then offer lower prices to win bids and hope you don't taste the cheap ice cream they serve you and your guests!
Many of these low-ball providers also nickel and dime you on services that include cleanup, bringing extra staff members, additional guest charges, travel, gas, and toll fees, and more.
We serve only our own homemade, award-winning, premium-quality ice cream every time.
Types of Events We Cater
We provide ice cream catering for office and business events, birthday parties, church events, and even funerals.
90% of our ice cream catering events are office parties. Employers love these events because we provide one of the most memorable events available – one that touches the hearts and minds of every team member.
These events deepen relationships, build camaraderie, and create a sense of appreciation among your team and for your company. Our ice cream bar event is also great because it keeps team members on the premises and is more time efficient than going out to a restaurant.
So, you get a chance to reward your employees while keeping team members in the office, which improves productivity.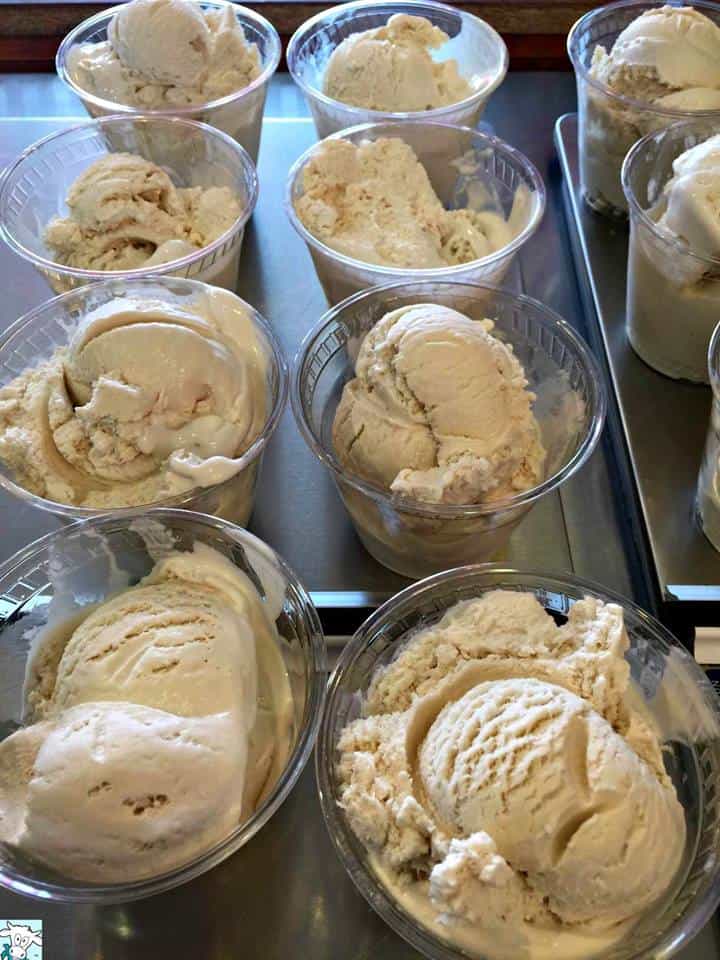 Areas Our "Ice Cream Catering Cart" Services
We also provide ice cream catering cart services for most of the Dallas/Fort Worth, Texas metroplex area. This is not a literal ice cream cart… as it wouldn't fit all the ice cream flavors and toppings! What we bring to the table for you and your guests is much more impressive!
Image the smiles on the faces of your guests as they see a 12 feet table with bright colors, candies and all their favorite flavors of ice cream to bring their wildest ice cream sundaes to life. This sight is breathtaking for children and adults alike.
We're located in Plano, Texas and will travel as far out as 40 miles in any direction.
We travel as far west as Fort Worth, as far south as South Dallas, and as far north as Sherman, Texas.
If you're farther out than that, we have colleagues we recommend. If you wonder whether we can service your upcoming event or not, simply contact us and ask.
Office Ice Cream Parties
You'll be surprised at how affordable our ice cream catering prices are!
For you to get…
Henry's homemade award-winning, premium-quality ice cream
Full ice cream sundae bar with 12 feet of table space holding 25 – 30 flavors, chocolate syrup, M&Ms, gummy bears, marshmallows, sprinkles, nuts, whipped cream, cherries and more
Ice cream sundae bar for 80 to 3,000+ guests
Fully staffed service
On- the-spot spill cleanup and full cleanup provided at the end
Catered at your location for 1.5 hrs of time
The investment is just $4.39 + tax per person!
Weddings & Sweet 16 weekend parties are slightly more.
That's it! There's no back-end, up-sell, travel costs…no additional charges!
Unlike other ice cream catering providers, you will never get surprise surcharges, cleaning fees or bargain ice cream sold to your guests. In the popular CNBC show 'The Profit' it was uncovered that a practice among some ice cream businesses is to resell grocery store bought ice cream at a premium.
Contact us to chat with our team about serving the most award-winning ice cream sundae bar for your upcoming event!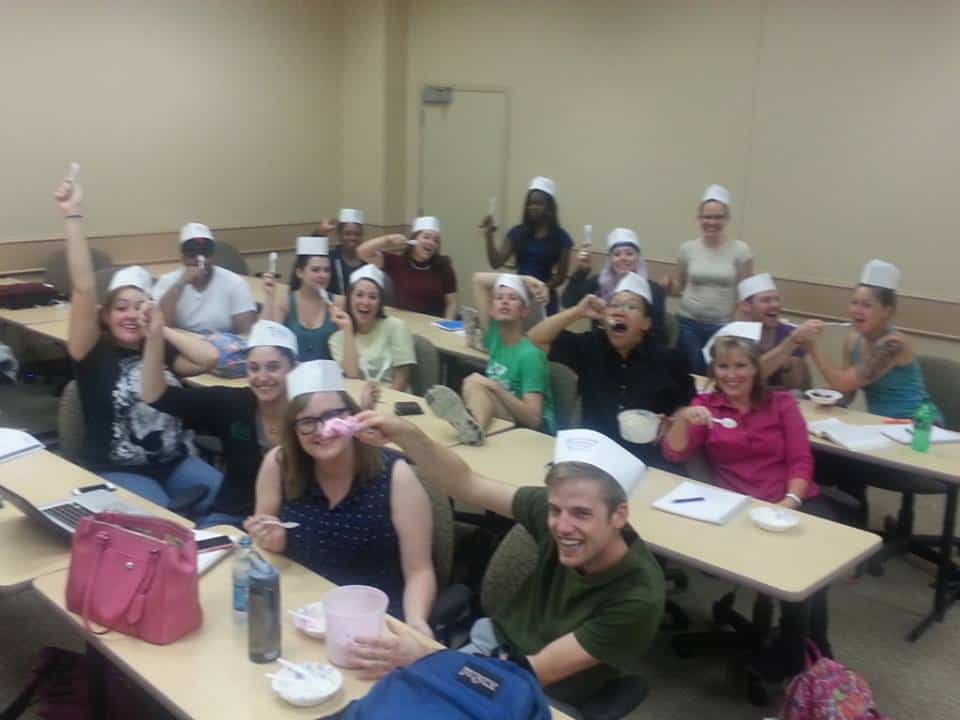 Questions to Ask Other Providers
If you feel like you just need to do your due diligence before you choose Henry's homemade ice cream catering, here are questions you should ask.
Which toppings are included with your ice cream bar?
Will your team be cleaning up during and after the event?
How many years of experience do your have with ice cream catering?
What is the largest catering event you've done?
What's the total price? Do you charge for anything else?
Where do you get your ice cream? Do you make it?
Better yet…just choose the best in the business for the past 37 years.
Choose Henry's!
Contact us to get started.
Remember, Ice Cream Makes You Pretty™